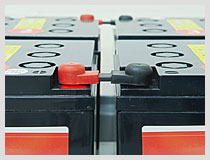 Telecommunication, UPS and Stationary Battery Applications
Batteries are an integral component of power protection systems such as uninterruptible power supplies, dc power plants or emergency generators. Without batteries, these critical systems will not function properly during a power disturbance resulting in loss of business operations, productivity and revenue. It is vital that your back up power system is equipped with quality batteries and are properly maintained to ensure your critical loads are protected at all times.
Battery systems are typically connected in a series configuration. Should there be an open battery cell, loose cable connection or other open circuit condition the entire battery system will not be able to perform. Consider a redundant battery solution, which will increase run time and add an additional layer of redundancy.
Ensuring you have quality batteries!
With the many types of batteries available, it is imperative that specific battery types are being used in your current back up system. The typical reserve power battery is either sealed valve regulated lead acid (VRLA) or flooded/wet cell technology. These battery types are designed to withstand the discharge and charging characteristics required by most critical power systems used within the following applications:
Telecom

Electric Utility/Switchgear

UPS

Emergency Lighting
We offer reserve power batteries from most manufacturers including
C&D Technologies

Centennial

Deka/East Penn

Enersys

GNB

Interstate
Optional battery accessories we support or provide include
Spill Containment

Safety Kits

Racks

Cabinets

Chargers

Monitoring Systems