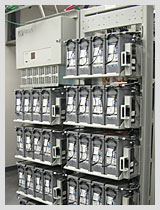 Keeping up with the latest in battery back up technology
A typical DC power system includes
Rectifiers

Controller

Monitoring

AC Distribution for rectifier input

DC distribution

Batteries

Low voltage disconnect options
Most systems utilize state-of-art hot-swallable rectifier modules allowing for easier system upgrades. Multiple rectifiers operate in parallel to increase output capacity and to ensure redundant operation.
We can work with you during the progressive stages of your project:
Planning & Design

Equipment Procurement

Rigging and Electrical Installation

Maintenance and Support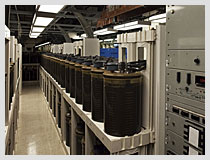 When it comes to 24 and 48Vdc systems, we can offer a wide variety of system selections ranging from smaller applications to scalable applications of up to 20,000 amps.
Eltek Valere

Sageon

Emerson Network Power/Lorain

Peco II/Lineage Power

Argus

Eaton
planning/design/engineering • equipment/procurement • installation/maintenance