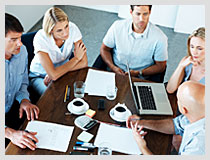 Taking care of businesses.
In addition to emergency generators, uninterruptible power supply units and dc power systems, many clients and end users are looking for a single source to manage all their vital equipment maintenance and service needs.
HVAC

Fire suppression

Raised floor cleaning

Water detection
So over the years, we have developed extensive relationships with qualified and reputable service partners. This allows us to continue to do what we do well and be your dependable resource providing you with peace of mind.