Ensuring reliability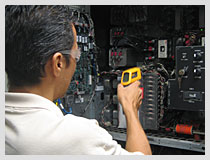 Regular preventative maintenance service on your ups is a vital component to ensure reliable operation and maximum up-time. Odyssey Power offers a comprehensive and cost-effective range of services to ensure your ups continues to perform at all times. Our onsite ups services include the following inspection points:
Record environmental conditions

Inspect electro-mechanical components

Verify proper ups operation and functionality

Test and verify integrity of each battery jar

Provide recommendations for remedial actions and/or upgrades, if required

Submit electronic copy of service reports
A full service maintenance plan gives you confidence that you have covered your bases. Should a system failure occur, rest assured you have chosen a reputable service provider who can and will respond. You can tailor a maintenance plan to suit your specific requirements choosing from any of the options below:
Routine inspections and preventative maintenance services ( from 1 to 12 visits per year)

Battery maintenance

Emergency service coverage

Guaranteed response times

Repair parts coverage

Battery coverage

Web portal for access to service reports

24/7 technical phone support

Remote equipment monitoring
All our service plans offer the flexibility to choose the level of service needed to ensure that risks and costs are reduced to a minimum.
Contact our sales team to discuss your requirements or to request a quotation!